Stephany McLaughlin Discussed Practical Tips for Successfully Arbitrating Cases
Posted on October 13th, 2016 at 1:21 PM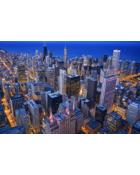 Stephany McLaughlin, along with Howard Suskin, Retired Judge David Coar and Retired Judge Allen Goldberg gave a presentation at the Chicago Bar Association discussing Arbitration both from policy and practical perspectives at the Chicago Bar Association.
The Chicago Bar Association was founded in 1874 and is among the oldest and most active bar associations in the U.S. One of CBA's many objectives, as stated on their website, is to maintain the honor and dignity of the profession of the law and to promote the general welfare of its members.
Stephany spoke about practical tips from plaintiff and defense perspectives in order to benefit those involved in arbitrations. Ms. McLaughlin was pleased to have the opportunity to offer her industry knowledge and unique insight to the discussion.
--
The attorneys of Eccleston Law LLC represent investors and advisers nationwide in securities and employment matters. The securities lawyers at Eccleston Law also practice a variety of other areas of securities for financial advisors including breakaway broker services, employment matters, strategic consulting and counseling, broker litigation and arbitration,whistleblower actions, and much more. Our attorneys draw on a combined experience of nearly 65 years in delivering the highest quality legal services. If you are in need of legal services, contact us to schedule a one-on-one consultation today.
Related Attorneys: Stephany D. McLaughlin
Tags: Eccleston, Eccleston Law, Eccleston Law LLC, James Eccleston, Stephany McLaughlin, Chicago Bar Association