Summit Financial Group Settles SEC Charges Related to the Sale of Volatility-Linked Exchange-Traded Products
Posted on November 16th, 2020 at 1:09 PM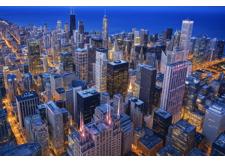 From the Desk of Jim Eccleston at Eccleston Law LLC:
Summit Financial Group, Inc. has agreed to settle charges brought by the U.S. Securities and Exchange Commission ("SEC"). The SEC alleged that Summit failed to adopt and implement policies and procedures reasonably designed to prevent unsuitable investments in volatility-linked exchange-traded products ("ETPs"). The SEC alleged that as a result of Summit's violations, advisors at the firm recommended to clients that they purchase and hold ETPs for time periods that were "inconsistent with the purpose of the product, as described in its offering documents." According to SEC, the violations occurred between 2016 and 2018.
According to an Order entered by the SEC, Summit advisors recommended that clients make long-term investments in a security called iPath S&P 500 VIX Short-Term Futures ETN ("VXX"). During 2016 and 2017, at least 92 Summit clients held VXX for time periods ranging from several months to more than one year, resulting in "meaningful losses" for 91 of those clients, the SEC alleged. Due to the nature of VXX, its value was likely to decrease when held for longer than very short periods, the SEC said.
The SEC found that Summit failed to adopt adequate procedures reasonably designed to prevent unsuitable recommendations of volatility-linked ETPs. The SEC also found that Summit failed to implement its policy which required advisors to receive adequate training of the investment features and risks of the products they recommend to clients.
As part of the settlement, Summit was ordered to pay a civil penalty of $600,000, disgorgement of $3,083.59, and prejudgment interest of $715.49. The SEC also ordered that a Fair Fund be created, in which investors who lost money as a result of Summit's violations could be compensated from the monetary sanctions paid by the firm. Summit consented to the entry of SEC's Order without admitting or denying the findings made in the Order.
Eccleston Law also practice a variety of other areas of practice for financial investors and advisors including Securities Fraud, Compliance Protection, Breach of Fiduciary Duty, FINRA Matters, and much more. Our attorneys draw on a combined experience of nearly 65 years in delivering the highest quality legal services. If you are in need of legal services, contact us to schedule a one-on-one consultation today.
Tags: eccleston, eccleston law, SEC, ETPs, Summit Financial Group