SEC Uses Dodd-Frank Act to Charge Municipal Advisor for Failing to Disclose Conflict
Posted on April 26th, 2016 at 12:37 PM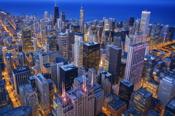 From the Desk of Jim Eccleston at Eccleston Law LLC:
This past March the Securities and Exchange Commission charged Kansas-based Central States Capital Markets, its CEO, and two employees for breaching their fiduciary duties by failing to disclose a conflict of interest to a municipal client. This is the first case on part of the SEC to enforce the fiduciary duty for municipal advisors created by the 2010 Dodd-Frank Act, which requires advisors to put their clients' interests ahead of their own.
The SEC's order alleges that while Central States served as a municipal advisor to a client in 2011, two of its employees, in consultation with the CEO, arranged for the offerings to be underwritten by a broker-dealer where all three worked as registered representatives. The SEC's order found that CEO John Stepp and employees Mark Detter and David Malone did not inform the client, identified simply as "The City" of their prior relationship to the underwriter nor did they disclose the financial benefit they obtained from serving in dual roles.
The SEC's order found that Central States, Stepp, Detter, and Malone, breached their duty to the city by failing to disclose those conflicts of interest. The SEC order found that Detter and Malone were specifically aware of the conflict of interest because Detter apparently emailed Malone at one point stating "we should resign" as municipal advisor and serve solely as underwriter on the offerings.
Andrew J. Ceresney, Director of the SEC's Enforcement Division, stated that "by failing to disclose their financial interest in the underwriting of the City's offerings, Central States—the City's municipal advisor – and its employees deprived the City of the opportunity to seek unbiased financial advice". He continued to state that "A municipal advisor's first duty should be to its municipal client, not its own bottom line."
Central States, Detter, Malone, and Stepp all consented to the SEC's Order that they cease and desist from similar future securities law violations as well as violations of rule G-17 of the Municipal Securities Rulemaking Board that requires advisors to deal impartially with their clients. Additionally, Central States agreed to pay $289,827.80 in disgorgement and interest and $85,000 in civil penalty. Detter, Malone, and Stepp all agreed to serve a suspension from the financial services industry.
The attorneys of Eccleston Law LLC represent investors and advisers nationwide in securities and employment matters. Our attorneys draw on a combined experience of nearly 65 years in delivering the highest quality legal services. If you are in need of legal services, contact us to schedule a one-on-one consultation today.
Related Attorneys: James J. Eccleston
Tags: Eccleston, Eccleston Law, Eccleston Law LLC, James Eccleston,