SEC Obtains Final Judgement Against Indianapolis-Based Advisor Over Allegations Of Fraud
Posted on February 16th, 2022 at 12:04 PM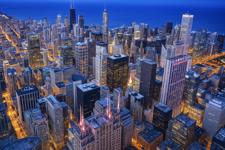 From the Desk of Jim Eccleston at Eccleston Law:
The U.S. District Court for the Southern District of Indiana has entered a final consent judgement against an Indianapolis-based advisor, George Blankenbaker, and three of his entities who previously were charged with defrauding at least 100 investors out of at least $8 million.

The Securities and Exchange Commission (SEC) filed a complaint in March 2021 naming Blankenbaker and his entities, StarGrower Commercial Bridge Loan Fund 1 LLC, StarGrower Asset Management LLC, and Blankenbaker Investments Fund 17 LLC. The SEC alleged that Blankenbaker falsely informed investors between August 2016 and May 2019 that their money would be used to fund short-term loans to food exporters in Asia. Blankenbaker additionally informed clients that the purported investments were secured by shipping containers holding the food products, according to the SEC.

The SEC's complaint further alleges that Blankenbaker provided at least $4 million of investor funds to hemp companies, used nearly $965,000 to make Ponzi-style payments to earlier investors, and misappropriated at least $1.7 million to cover his own personal expenses. The SEC alleges that Blankenbaker's fraud caused at least 100 investors, including numerous elderly clients, to lose at least $8.1 million.

Eccleston Law LLC represents investors and financial advisors nationwide in securities, employment, regulatory and disciplinary matters.
Tags: eccleston, eccleston law, sec