SEC Files Charges Against Individuals and Entities Involved in South Carolina Resort Fraud
Posted on November 29th, 2018 at 5:13 PM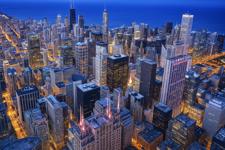 From the Desk of Jim Eccleston at Eccleston Law LLC:
The SEC has filed charges in Salt Lake City, Utah against businessmen J.T. Bramlette, Anthony Hartman, Travis Kozlowski and Aaron Wernli for carrying out a long-running and complex fraud on individuals who invested in the Melrose Resort on Daufuskie Island, South Carolina.
The SEC's complaint also charged Mr. Bramlette's companies, Pelorus Group, Private Placement Capital Notes II, LLC, Stone Mountain Equities, LLC and Entelecus Fund, LLC under antifraud provisions of the federal securities laws.
According to the SEC's complaint, in 2011, Mr. Bramlette arranged for the purchase of the Melrose Resort, and Anthony Hartman, Travis Kozlowski and Aaron Wernli helped raise money for the project. Moreover, Mr. Bramlette and his associates lured individuals to invest in the resort by promising them returns of up to 24%. However, what Mr. Bramlette and his associates failed to disclose to their investors was that the resort was uninhabitable and was suffering significant losses each month.
Eventually, Mr. Bramlette and his associates lost their ownership in the resort when they defaulted on a series of loans but still continued to raise money from unsuspecting investors.
In addition, Mr. Bramlette and his associates used new investor money to pay old investors in a Ponzi-scheme like manner and used a substantial amount of investor funds to pay for their lavish lifestyles.
Eccleston Law is investigating the fraudulent activities J.T. Bramlette and other associated individuals and entities. Those with information should contact our law firm.
The attorneys of Eccleston Law LLC represent investors and advisors nationwide in securities and employment matters. The securities lawyers at Eccleston Law also practice a variety of other areas of practice for financial investors and advisors including Securities Fraud, Compliance Protection, Breach of Fiduciary Duty, FINRA Matters, and much more. Our attorneys draw on a combined experience of nearly 65 years in delivering the highest quality legal services. If you are in need of legal services, contact us to schedule a one-on-one consultation today.
Related Attorneys: James J. Eccleston
Tags: james eccleston, eccleston law, eccleston law llc, eccleston, SEC, fraud, south carolina, j.t. bramlette, daufuskie island