SEC Charges Texas Resident With Fraud In Connection With Chicago Real Estate Scheme
Posted on May 30th, 2019 at 4:01 PM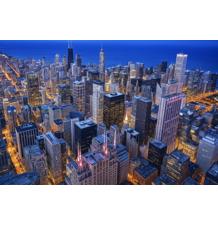 From the Desk of Jim Eccleston at Eccleston Law LLC:
On May 29, 2019, the Securities and Exchange Commission (SEC) charged George Slowinski with perpetrating a more than $20 million real estate fraud in Chicago, Illinois, impacting more than 600 investors.
According to the SEC Press Release No. 24483, Slowinski, a Texas resident, was a principal and owner of Rebuilding America, LLC, which purportedly offered real estate investments. Slowinski and Rebuilding America allegedly advised investors that Rebuilding America would pool investor proceeds to acquire, refurbish, and sell for profit residential real estate primarily located in Chicago. Slowinski and Rebuilding America allegedly lured investors through pitching Rebuilding America as a successful real estate program, and by falsely promising to pay investors 38% returns in only two years. They allegedly raised more than $20 million from over 600 investors with the assistance from London-based Project Kudos Group Limited and Singapore-based Infinity Treasures Private Limited.
The SEC's complaint, filed in the U.S. District Court for the Northern District of Illinois, alleges that Slowinski violated the antifraud provisions of Section 17(a) of the Securities Act of 1933 and Section 10(b) the Securities Exchange Act of 1934 and Rule 10b-5 thereunder, and aided and abetted Rebuilding America's violations of the antifraud provisions of Sections 17(a) and 10(b), and Rule 10b-5 thereunder. The complaint seeks injunctive relief, disgorgement of ill-gotten gains, and civil penalties.
The attorneys of Eccleston Law LLC represent investors and advisors nationwide in securities and employment matters. The securities lawyers at Eccleston Law also practice a variety of other areas of practice for financial investors and advisors including Securities Fraud, Compliance Protection, Breach of Fiduciary Duty, FINRA Matters, and much more. Our attorneys draw on a combined experience of nearly 65 years in delivering the highest quality legal services. If you are in need of legal services, contact us to schedule a one-on-one consultation today.
Related Attorneys: James J. Eccleston
Tags: james eccleston, eccleston law, eccleston law llc, eccleston, chicago real estate, sec, george slowinski, rebuilding america, fraud