SEC Charges Texas Company and Its President in Oil-And-Gas Scheme
Posted on November 21st, 2016 at 12:13 PM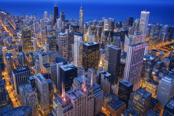 From the Desk of Jim Eccleston at Eccleston Law LLC:
The SEC filed charges on October 24 against Southlake Resources Group, LLC, its president, Cody M. Winters, and its vice president, Nicholas R. Hamilton. According to the SEC's complaint, Mr. Winters raised approximately $5.2 million from more than 70 investors in 12 fraudulent oil-and-gas joint ventures from approximately June 2010 through September 2014. The SEC alleges that Mr. Winters and Southlake provided investors with documents that misrepresented the use of the offering proceeds, contained unsubstantiated projections regarding future oil production and revenue, and overstated expected well costs. Mr. Winters also sold joint-venture interests to certain investors at an undisclosed discount and used offering proceeds to acquire working interest for the company itself.
Without admitting or denying the allegations in the complaint, Southlake, Mr. Winters and Mr. Hamilton settled charges with the SEC. Along with consenting to the entry of permanent injunctions for violating securities-registration and anti-fraud provisions of the federal securities laws, the Defendants have agreed to pay a disgorgement totaling $5,235,650, plus a prejudgment interest of $285,761.70. Mr. Winters and Southlake also agreed to pay civil penalties of $160,000 each. Mr. Hamilton agreed to pay a $50,000 civil penalty.
The attorneys of Eccleston Law LLC represent investors and advisers nationwide in securities and employment matters. The securities lawyers at Eccleston Law also practice a variety of other areas of securities for financial advisors including breakaway broker services, employment matters, strategic consulting and counseling, broker litigation and arbitration,whistleblower actions, and much more. Our attorneys draw on a combined experience of nearly 65 years in delivering the highest quality legal services. If you are in need of legal services, contact us to schedule a one-on-one consultation today.
Related Attorneys: James J. Eccleston
Tags: Eccleston, Eccleston Law, James Eccleston, Eccleston Law LLC, SEC, Southlake Resources Group LLC, Cody M. Winters, Nicholas R. Hamilton, investors, civil penalties, Defendants, securities-registration, anti-fraud provisions,