SEC Charges Salt Lake City Based Investment Adviser with Recommending Unsuitable Investments and Failing to Disclose Conflicts of Interest
Posted on December 13th, 2016 at 12:36 PM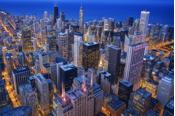 From the Desk of Jim Eccleston at Eccleston Law LLC:
The SEC has charged a Salt Lake City-based investment adviser named Gary E. Oliver with mismanagement of client assets and failure to disclose conflicts of interests.
Mr. Oliver, a former Fortius Financial Advisors member, agreed to settle without admitting or denying the charges against him. In the settlement, Mr. Oliver agreed to cease and desist from violating the charges, agree to a bar from the industry, pay $153,862 in disgorgement and prejudgment interest, and pay an additional $125,000 penalty.
The charges stem from an SEC investigation that found that Fortius Financial Advisors, LLC, its founding member and chief investment officer named Jeff M. Bollinger, as well as Mr. Oliver, invested more than $800,000 of the firm's assets in unsuitable, illiquid investments in which all three parties had an undisclosed financial interest. The investigation also found that Mr. Oliver misappropriated approximately $137,000 from the firm's accounts over a four-year period.

The attorneys of Eccleston Law LLC represent investors and advisers nationwide in securities and employment matters. The securities lawyers at Eccleston Law also practice a variety of other areas of securities for financial investors including unauthorized trading, securities fraud, breach of fiduciary duty, retirement planning negligence, and much more. Our attorneys draw on a combined experience of nearly 65 years in delivering the highest quality legal services. If you are in need of legal services, contact us to schedule a one-on-one consultation today.
Related Attorneys: James J. Eccleston
Tags: Eccleston, Eccleston Law, Eccleston Law LLC, James Eccleston, SEC, Salt Lake City, Gary E. Oliver, investment adviser, Fortius Financial Advisors, disgorgement, prejudgement interest, Fortius Financial Advisors LLC,