SEC Charges Former CFO of Florida Cash Advance Company with Fraud
Posted on September 9th, 2019 at 4:19 PM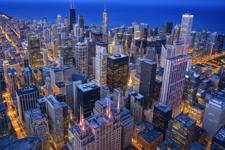 From the Desk of Jim Eccleston at Eccleston Law LLC:
The Securities and Exchange Commission ("SEC") charged 1 Global Capital LLC's ("1 Global") former chief financial officer, Alan G. Heide, with defrauding retail investors. The now-bankrupt Florida-based cash advance company allegedly fraudulently raised more than $322 million from 3,600 investors between 2014 and last year.
According to the SEC Litigation Release No. 24565, although 1 Global promised investors profits from its short-term cash advances to businesses, the company used substantial investor funds for other purposes, including paying operating expenses and funding Ruderman's lavish lifestyle. The SEC alleges that Heide, a certified public accountant, regularly provided investors' monthly account statements that he knew overstated the value of their accounts. Also, Heide falsely represented that 1 Global had an independent auditor that had endorsed the company's method of calculating investor returns.
The SEC's complaint charges Heide with violations of Section 17(a) of the Securities Act of 1933 and Section 10(b) of the Securities Exchange Act of 1934 and Rule 10b-5 thereunder. The SEC seeks a court-ordered injunction and a financial penalty. Heide agreed to settle the SEC's charges as to liability, without admitting or denying the allegations and agreed to be subject to an injunction, with the court to determine the penalty amount at a later date. Separately, the U.S. Attorney's Office for the Southern District of Florida recently announced criminal charges against Heide.
This is the third action the SEC has brought involving the 1 Global fraud. The SEC previously charged 1 Global and former CEO Carl Ruderman with fraud and charged Henry J. "Trae" Wieniewitz, III for his allegedly unlawful sales of 1 Global's securities. Ruderman and Wieniewitz have consented to final judgments and held liable for disgorgement of approximately $32 million in ill-gotten gains and a civil penalty of $15 million. As part of the judgment, Ruderman agreed to turn over $750,000 in cash, as well as 50 percent of the equity in his multi-million dollar condominium.
The attorneys of Eccleston Law LLC represent investors and advisors nationwide in securities and employment matters. The securities lawyers at Eccleston Law also practice a variety of other areas of practice for financial investors and advisors including Securities Fraud, Compliance Protection, Breach of Fiduciary Duty, FINRA Matters, and much more. Our attorneys draw on a combined experience of nearly 65 years in delivering the highest quality legal services. If you are in need of legal services, contact us to schedule a one-on-one consultation today.
Related Attorneys: James J. Eccleston
Tags: james eccleston, eccleston law, eccleston law llc, eccleston, sec, fraud, 1 global capital, alan heide