SEC charges Chicago Financial Adviser with $1.7 Million Fraud
Posted on August 30th, 2019 at 3:57 PM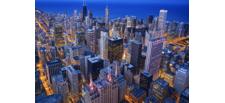 From the Desk of Jim Eccleston at Eccleston Law LLC:
The Securities and Exchange Commission ("SEC") charges Marcus Boggs, a former Chicago investment adviser at the Chicago office of Merrill Lynch, with stealing over $1.7 million from at least three of his clients.
According to the SEC's complaint, between 2016 and 2018, Boggs made more than 200 illegal transfers from three advisory clients' accounts to pay for his personal and massive credit card purchases. The complaint alleges that Boggs misappropriated his clients' money by selling securities in their advisory accounts without his clients' knowledge. He then transferred the proceeds to his credit card account. During the period of the scheme, Boggs vacationed in Europe, South Africa, Canada, and the Caribbean, staying in luxury hotels, according to the complaint. He stole over $1.7 million and made hundreds of unauthorized payments to his credit card account.
According to Boggs's BrokerCheck profile, he worked at Merrill Lynch between March 2006 and December 2018. In that role, Boggs managed over $40 million in assets held by more than 70 clients and presented himself to Chicago's wealthy philanthropic community as a successful financial services professional.
According to the BrokerCheck, Boggs has five disclosures listed on his profile, including three customer disputes that he settled. Also, the Financial Industry Regulatory Authority ("FINRA") barred Boggs from acting as a broker or otherwise associating with a broker-dealer firm. Boggs also faces criminal charges of wire fraud.
The attorneys of Eccleston Law LLC represent investors and advisors nationwide in securities and employment matters. The securities lawyers at Eccleston Law also practice a variety of other areas of practice for financial investors and advisors including Securities Fraud, Compliance Protection, Breach of Fiduciary Duty, FINRA Matters, and much more. Our attorneys draw on a combined experience of nearly 65 years in delivering the highest quality legal services. If you are in need of legal services, contact us to schedule a one-on-one consultation today.
Related Attorneys: James J. Eccleston
Tags: james eccleston, eccleston law, eccleston law llc, eccleston, sec, fraud, merrill lynch, marcus boggs, brokercheck