SEC Bars Advisor Over 1 Global Capital Sales
Posted on April 6th, 2022 at 2:20 PM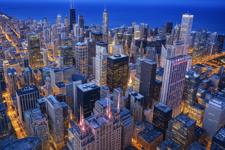 From the Desk of Jim Eccleston at Eccleston Law:
The Securities and Exchange Commission (SEC) has barred an advisor as well as his firm, which sold $37 million of an investment fraud, 1 Global Capital, between May 2017 and June 2018.

The SEC barred Michael Pellegrino and his firm, 1 Global Capital, which is a Chicago-based advisory firm that oversees $298.5 million in assets. Michael Pellegrino and Anthony Pellegrino, the firm's principal and owner, generated nearly $1.6 million in fees from 1 Global for selling the securities. Michael Pellegrino, Anthony Pellegrino and the firm settled the dispute with the SEC without admitting or denying any of the regulator's investigatory findings. However, the SEC ordered Global Capital to pay a $70,000 penalty and hire an independent compliance consultant. In 2018, the SEC initiated its investigation of 1 Global Capital, which purportedly provided small business loans known as direct merchant cash advances.

1 Global Capital advertised its investment as safe while falsely informing investors that the firm's merchant cash advance business would attain high-single-digit or low-double-digit annual returns, according to the SEC. However, unbeknownst to the Pellegrinos and their firm, 1 Global's operation was determined to be a fraud, according to the SEC. Once 1 Global filed for bankruptcy, Global Capital set aside funds to facilitate a settlement with its clients who invested in 1 Global. According to the SEC, Global Capital agreed to return all referral fees received from 1 Global plus an additional sum of nearly $700,000, which included $1.3 million personally contributed by Anthony Pellegrino.

Eccleston Law LLC represents investors and financial advisors nationwide in securities, employment, regulatory and disciplinary matters.
Tags: eccleston law, sec, advisory firm