Recent Whistleblower Award Demonstrates CFTC's Continued Commitment to Program
Posted on April 5th, 2019 at 3:25 PM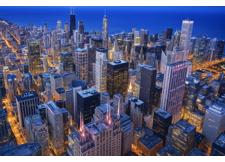 From the Desk of Jim Eccleston at Eccleston Law LLC:
The U.S. Commodity Futures Trading Commission (CFTC) recently announced a whistleblower award of over $2 million to an individual for providing expert analysis in conjunction with a related action instituted by another federal regulator.
The announcement is significant because it is the first time that the CFTC granted a whistblower award to a company outsider or a non-inside source, who had provided critical information to federal regulators through independent analysis of market data. In addition, the CFTC has never before issued a whistleblower award to a claimant when there has been another award granted to a different individual by another federal regulator related to the same action.
The CFTC and SEC's whistleblower programs have been important tools since their inception. The CFTC amended its program in 2017 to mirror the SEC's whistleblower program in order to strengthen anti-retaliation protections for whistleblowers. The standard to obtain an award requires that the whistleblower's information must be unique, useful and leads to a successful enforcement action.
Eccleston Law, LLC helps individuals file and document their CFTC and SEC whistleblower claims while maintaining confidentiality. Please contact us for further information.
The attorneys of Eccleston Law LLC represent investors and advisors nationwide in securities and employment matters. The securities lawyers at Eccleston Law also practice a variety of other areas of practice for financial investors and advisors including Securities Fraud, Compliance Protection, Breach of Fiduciary Duty, FINRA Matters, and much more. Our attorneys draw on a combined experience of nearly 65 years in delivering the highest quality legal services. If you are in need of legal services, contact us to schedule a one-on-one consultation today.
Related Attorneys: James J. Eccleston
Tags: james eccleston, eccleston law, eccleston law llc, eccleston, whistleblower, cftc, sec, anti-retaliation