Platinum Partners' Hedge Fund Files for Bankruptcy
Posted on November 1st, 2016 at 9:21 AM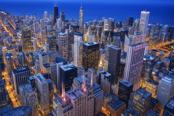 From the Desk of Jim Eccleston at Eccleston Law LLC:
Platinum Partners' flagship fund has filed for chapter 15 protection bankruptcy. Platinum Partners filed for Chapter 15 because its fund had legal operations in the Cayman Islands. However, a question still remains as to whether creditors will be able to collect on the debt and file lawsuits. If the Cayman Islands are recognized as the main jurisdiction for the fund, then the liquidators will be able to block any interference and lawsuit from creditors looking to gain control of assets.
Platinum's liquidators in court papers asserted that the fund's "nerve center" was in the Cayman Islands despite the fact that Mark Nordlicht, the firm's investment director, was located in New York City.
Concurrent with two Cayman Islands liquidators working to unwind the fund, the SEC and DOJ have been investigating hundreds of millions of dollars in unpaid bills by the hedge fund mainly because it held a high concentration of hard-to-sell energy assets.
Furthermore, earlier this year, Platinum's co-founder Murray Huberfeld was arrested for allegedly bribing Norman Seabrook, the ex-president of New York City's correction officer's union, in exchange for an investment in the firm's funds. Huberfeld and Seabrook have pleaded not guilty.
Shortly thereafter, Platinum announced it would liquidate its assets under management.
The attorneys of Eccleston Law LLC represent investors and advisers nationwide in securities and employment matters. The securities lawyers at Eccleston Law also practice a variety of other areas of securities for financial advisors including breakaway broker services, employment matters, strategic consulting and counseling, broker litigation and arbitration,whistleblower actions, and much more. Our attorneys draw on a combined experience of nearly 65 years in delivering the highest quality legal services. If you are in need of legal services, contact us to schedule a one-on-one consultation today.
Related Attorneys: James J. Eccleston
Tags: Eccleston, Eccleston Law, Eccleston Law LLC, James Eccleston, Platinum Partners, bankruptcy, Chapter 15, Hedge Fund Files, Cayman Islands, liquidators, nerve center, Mark Nordlicht, investment director, New York City, Murray Huberfeld, Norman Seabroo