Oil and Gas Company and Its Founder Charged with Fraud
Posted on May 28th, 2015 at 4:43 PM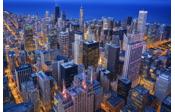 From the Desk of Jim Eccleston at Eccleston Law LLC:
The SEC filed suit against Texas businessman Brian J. Polito and his company GC Resources, LLC for defrauding investors through the sale of interests in oil and gas wells that the company never owned.
According to the SEC, Brian J. Polito raised approximately $11.8 million through GC Resources, by creating a fake agreement with a well-known oil company that purported to give GC Resources the right to sell interests in certain oil wells. Polito forged signatures on the false contract and used it to lure investors to purchase interests in the wells GC Resources claimed to own. Polito then used investor money to pay for Ponzi-type returns to investors and to purchase luxury cars, designer watches, and exotic vacations for himself.
The attorneys of Eccleston Law LLC represent investors and advisers nationwide in securities and employment matters. Our attorneys draw on a combined experience of nearly 65 years in delivering the highest quality legal services.
Related Attorneys: James J. Eccleston
Tags: Eccleston Law LLC, James Eccleston, eccleston, Eccleston Law, SEC, Securities Exchange Commission,