Naperville Businessman Sentenced to Seven Years in Prison for Fraud
Posted on September 16th, 2015 at 4:28 PM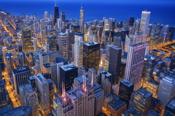 From the Desk of Jim Eccleston at Eccleston Law LLC:
John T. Burns III was sentenced to a seven year sentence in federal prison after being found guilty of defrauding clients into investing $3.3 million in fake Turkish bonds. Burns promised clients lucrative returns and informed them that he had previous experience with the bonds, even going as far as saying he had personally invested; none of which was true.
In actuality, Burns had no professional investment experience and his family had never invested in Turkish bonds, simply because the bonds do not really exist. After being found guilty in two counts of wire fraud and in three counts of mail fraud, Burns was sentenced to seven years in federal prison as well as to pay $3,383,113 in restitution.
To defraud clients, Burns lured people into estate planning seminars, even going so far as to offer those who attend a free meal. After the seminars, Burns scheduled follow up meetings where he would pitch investment opportunities in Turkish bonds to prospective clients. What the clients did not know was the Turkish bonds did not exist and that their money was being used to pay other investors in a large Ponzi-type scheme.
Burns' scam was part of a larger Ponzi scheme involving two members of USA Retirement Management Services, Robert Pribilski and Mahmut Erhan Durmaz. The group collectively defrauded 120 defendants out of $28 million. While Burns received seven years in prison, Pribilski is still waiting to be sentenced. Durmaz, however, fled the country in 2010 and is believed to be residing in Turkey. USA Retirement Management Services was shut down by the U.S. Securities and Exchange Commission in 2010.
The attorneys of Eccleston Law LLC represent investors and advisers nationwide in securities and employment matters. Our attorneys draw on a combined experience of nearly 65 years in delivering the highest quality legal services.
Related Attorneys: James J. Eccleston
Tags: Eccleston Law LLC, James Eccleston, eccleston, Eccleston Law, John T. Burns, fraud, ponzi scheme, USA Retirement Management Services