Mulholland Twins Sentenced 10 to 20 Years in Prison for Ponzi Scheme
Posted on October 6th, 2016 at 1:15 PM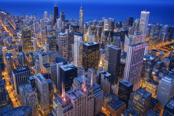 From the Desk of Jim Eccleston at Eccleston Law LLC:
A Michigan judge has sentenced twins James Mulholland of St. Petersburg, Florida and Thomas Mulholland of Midland, Michigan to10 to 20 years in prison and ordered them to pay approximately $208,000 in restitution.
The brothers were convicted for conducting an $18.3 million ponzi scheme. From 2009 to 2010, the brothers promised 250 individual investors a 7% rate of return on investments in their real estate, when in fact their company Mulholland Financial Services was actually losing money because of the great recession. The brothers' company was forced to use new investor money to pay off earlier investors as financial problems mounted.
The brothers were sentenced to a variety of years in prison but the sentences will be served concurrently, with the longest being 10 to 20 years in prison.
The attorneys of Eccleston Law LLC represent investors and advisers nationwide in securities and employment matters. The securities lawyers at Eccleston Law also practice a variety of other areas of securities for financial advisors including breakaway broker services, employment matters, strategic consulting and counseling, broker litigation and arbitration,whistleblower actions, and much more. Our attorneys draw on a combined experience of nearly 65 years in delivering the highest quality legal services. If you are in need of legal services, contact us to schedule a one-on-one consultation today.
Related Attorneys: James J. Eccleston
Tags: Eccleston, Eccleston Law, James Eccleston, Eccleston Law LLC, restitution, Mulholland Twins, ponzi scheme, investor, recession