Morgan Stanley Sues a Former Adviser for Allegedly Misappropriating Confidential Client Information
Posted on January 10th, 2018 at 3:24 PM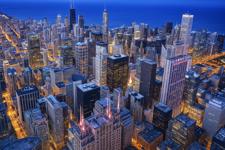 From the Desk of Jim Eccleston at Eccleston Law LLC:
Morgan Stanley has sued one of its former advisers, Steven Glazer of Deerfield, Illinois in federal court, alleging that he misappropriated confidential client information with the intent to use it after he resigned from the firm. In Morgan Stanley's complaint, it alleges that Glazer breached his employment contract, misappropriated trade secrets, breached his duty of loyalty, and violated a non-solicitation agreement.
Prior to his departure, Glazer had been employed at Morgan Stanley's office in Deerfield, Illinois for six years. According to Morgan Stanley, Glazer is currently employed at a firm called, The Asset Management Group, located in Northbrook, Illinois.
According to Morgan Stanley, after Glazer resigned, but before the access to his Morgan Stanley email was terminated, Glazer allegedly sent a list of 100 clients to his personal Gmail account. The client list also included the clients' account numbers and asset information. In addition, Morgan Stanley also discovered while searching his office after his departure, that Glazer seized paper copies of his original client folders.
In its lawsuit, Morgan Stanley asserted that Glazer signed a Financial Advisor Employment Agreement, which specifically prohibits using confidential client information for any purpose other than conducting business at Morgan Stanley.
Morgan Stanley also pointed to a non-solicitation covenant in the agreement which prohibits a former employee from doing business with any Morgan Stanley client he or she serviced, one year after his or her departure form the firm.
In addition to the four counts in the complaint, Morgan Stanley requested a temporary restraining order (TRO) and a preliminary injunction.
This case underscores the need for advisors to retain competent securities counsel to plan a successful transition. The attorneys at Eccleston Law assist reps transition, negotiate their transition agreements, and defend reps when firms file suit.
The attorneys of Eccleston Law LLC represent investors and advisors nationwide in securities and employment matters. The securities lawyers at Eccleston Law also practice a variety of other areas of practice for financial advisors including Broker Litigation & Arbitration, Strategic Consulting Services, Regulatory Matters, Transition Contract Review, and much more. Our attorneys draw on a combined experience of nearly 65 years in delivering the highest quality legal services. If you are in need of legal services, contact us to schedule a one-on-one consultation today.
Related Attorneys: James J. Eccleston
Tags: Eccleston, Eccleston Law, Eccleston Law LLC, James Eccleston