Morgan Stanley Remodels Offices in an Effort to Roll Out Tech-Friendly Workspaces
Posted on November 8th, 2018 at 12:00 PM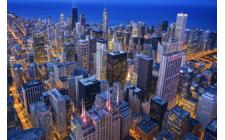 From the Desk of Jim Eccleston at Eccleston Law LLC:
Morgan Stanley has announced that approximately 1.2 million square feet (111,000 square meters) of office space will get an overhaul in the next 15 months as a result of changes in how its brokers, traders, and bankers interact with the technological side of the company.
Recently, Morgan Stanley's executives approved a project, called "Workplace Evolution," for offices in New York, Houston, Frankfurt, Chicago, Glasgow, Budapest, London, Mumbai, and Bangalore. According to Morgan Stanley, the blueprint for the "Workplace Evolution" project consists of remolding offices to reflect a much more dynamic, millennial type of work atmosphere.
Additionally, Morgan Stanley anticipates spending $4 billion annually in focusing its efforts on blockchain, automation, and other technologies. This includes Morgan Stanley's decision to build algorithms and use machine learning to help its 15,000 brokers make trade suggestions for clients.
Morgan Stanley, which has a $2.4 trillion wealth management division and makes 18 million transactions a day on its electronic-trading platform for equities, anticipates the remodeling process to be ongoing as technology continues to rapidly change.
The attorneys of Eccleston Law LLC represent investors and advisors nationwide in securities and employment matters. The securities lawyers at Eccleston Law also practice a variety of other areas of practice for financial investors and advisors including Securities Fraud, Compliance Protection, Breach of Fiduciary Duty, FINRA Matters, and much more. Our attorneys draw on a combined experience of nearly 65 years in delivering the highest quality legal services. If you are in need of legal services, contact us to schedule a one-on-one consultation today.
Related Attorneys: James J. Eccleston
Tags: james eccleston, eccleston law, eccleston law llc, eccleston, morgan stanley, tech workspaces