Merrill Lynch Team Joins Sanctuary Wealth
Posted on June 19th, 2019 at 4:45 PM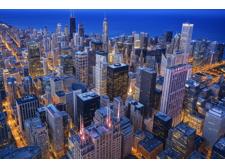 From the Desk of Jim Eccleston at Eccleston Law LLC:
Wirehouse Merrill Lynch has lost another team of financial advisors to Sanctuary Wealth, an independent broker-dealer in Indianapolis led by a former Merrill regional manager.
According to a recent AdvisorHub article, the two advisors, who produced $5.2 million in annual revenue in the past 12 months and were overseeing $800 million of client assets for 225 families, were unhappy with Merrill Lynch constant push to increase the number of client accounts and to sell mortgages and other bank products.
Sanctuary, a division of David A. Noyes, a 110-year-old firm, is led by Jim Dickson, one of the most admired and successful leaders in the industry. The small brokerage intends to shed its original name and adopt Sanctuary as it focuses on the independent channel. The new Sanctuary unit is fast growing as it added about 55 brokers since it founded 14 months ago while Noyes has shrunk to about 20 brokers during the same time, according to the article.
Sanctuary and Merrill Lynch are members of the Protocol for Broker Recruiting, which allows brokers to bring certain customer contact information with them and solicit business, but within critical parameters and restrictions.
The attorneys at Eccleston Law consult financial advisors nationwide to plan their transition, negotiate employment and other agreements, and defend reps when firms file lawsuits and arbitration claims.
The attorneys of Eccleston Law LLC represent investors and advisors nationwide in securities and employment matters. The securities lawyers at Eccleston Law also practice a variety of other areas of practice for financial investors and advisors including Securities Fraud, Compliance Protection, Breach of Fiduciary Duty, FINRA Matters, and much more. Our attorneys draw on a combined experience of nearly 65 years in delivering the highest quality legal services. If you are in need of legal services, contact us to schedule a one-on-one consultation today.
Related Attorneys: James J. Eccleston
Tags: james eccleston, eccleston law, eccleston law llc, eccleston, merrill lynch, sanctuary, broker recruiting protocol, broker-dealers