In Unusual First, Broker Wins Temporary Restraining Order Against His Firm
Posted on May 5th, 2020 at 3:24 PM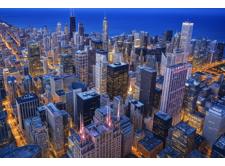 From the Desk of Jim Eccleston at Eccleston Law LLC:
Following his termination from Investacorp, Ian James sued the firm alleging that the firm engaged in deceptive and unfair trade practices, among several claims. According to James, Investacorp told him that he would be terminated "for cause" unless he sold his book of business to another representative at Investacorp. If he sold his book to the advisor selected by Investacorp, he would be allowed to resign. According to James, the price that he was offered to sell his book of business as part of this deal was far below market value.
In his lawsuit against Investacorp, James alleged deceptive and unfair trade practices, tortious interference with an advantageous business relationship, defamation, and breach of contract. In addition to his Complaint, James also filed a Motion for Temporary Restraining Order ("TRO"). In his Motion for TRO, James sought to restrain Investacorp from engaging in a number of acts, including: terminating James' status as a registered rep with Investacorp; terminating, amending or breaching the registered representative agreement between James and Investacorp; interfering with James' business relationships; and making disparaging remarks or false statements about James.
The Court granted James' Motion for TRO and set a date for a hearing on a preliminary injunction. In granting James' Motion, the Court found that James is likely to succeed on the merits of his claims, that he had demonstrated a substantial threat of irreparable injury if the TRO was not granted, and that the threat to James outweighed any potential injury to Investacorp.
TROs are common in lawsuits involving brokers and firms. However, TROs are usually sought by firms seeking to restrain the activity of brokers who left the firm. James' victory demonstrates that courts are open to granting TROs in favor of brokers as well. The TRO sends a message to brokers that they are not powerless in fights against their current or former firms.
Investment professionals who believe they have been mistreated by their firm should contact the professionals at Eccleston Law to discuss their options.
The attorneys of Eccleston Law LLC represent investors and advisors nationwide in securities and employment matters. The securities lawyers at Eccleston Law also practice a variety of other areas of practice for financial investors and advisors including Securities Fraud, Compliance Protection, Breach of Fiduciary Duty, FINRA Matters, and much more. Our attorneys draw on a combined experience of nearly 65 years in delivering the highest quality legal services. If you are in need of legal services, contact us to schedule a one-on-one consultation today.
Related Attorneys: James J. Eccleston
Tags: eccleston, eccleston law, james eccleston, tro, ian james, investacorp