Illinois Federal Court Fraud Hearing Ends in $1.8 Million Judgment in Favor of SEC
Posted on December 4th, 2019 at 5:24 PM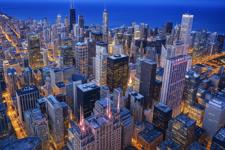 From the Desk of Jim Eccleston at Eccleston Law LLC:
According to the Securities and Exchange Commission ("SEC"), on November 12th, 2019, a final judgment was entered in Illinois federal court against an investment adviser charged with "fraud for misappropriating client assets and misrepresenting the value of 15 unregistered advisors."
Randall Goulding, owner and managing member of The Nutmeg Group LLC, was charged by the SEC in March 2009, and the trial was held for two weeks in October 2019. The SEC reports that Judge Jeffrey T. Gilbert of the United States District Court for the Northern District of Illinois "issued findings of fact and conclusions of law" that Goulding "commingled investor funds with his personal assets, implemented flawed internal systems and methods for valuing and reporting assets under management, and transferred millions of dollars out of the investment pools to himself and companies controlled by family members." Funds from the LLC were used to pay for Goulding's credit cards, a car, and a registration fee for a poker tournament.
Goulding was enjoined from future violations of Sections 206(1), 206(2), and 206(4) of the Investment Advisers Act of 1940 and Rule 206(4)-8 thereunder. Goulding was also ordered to pay more than $1.8 million – this included a $642,422 disgorgement, $583,230 prejudgment interest, and a $642,422 civil penalty. Separately, Nutmeg was enjoined permanently from violating Sections 204, 206(1), 206(2), and 206(4) of the Advisers Act and Rules 204-2, 206(4)-2 and 206(4)-8 thereunder.
The attorneys of Eccleston Law LLC represent investors and advisors nationwide in securities and employment matters. The securities lawyers at Eccleston Law also practice a variety of other areas of practice for financial investors and advisors including Securities Fraud, Compliance Protection, Breach of Fiduciary Duty, FINRA Matters, and much more. Our attorneys draw on a combined experience of nearly 65 years in delivering the highest quality legal services. If you are in need of legal services, contact us to schedule a one-on-one consultation today.
Related Attorneys: James J. Eccleston
Tags: james eccleston, eccleston law, eccleston law llc, eccleston, sec, nutmeg group llc, misappropriating funds