Idaho Broker Pleads Guilty to Investment Fraud
Posted on April 23rd, 2015 at 11:44 AM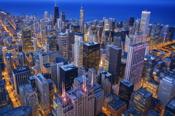 From the Desk of Jim Eccleston at Eccleston Law LLC:
Idaho broker Michael Justin Hoopes pleaded guilty to wire fraud and engaging in monetary transactions in property from illegal activity. From 2007 to 2011, Hoopes defrauded investors to use their funds for day trading. He promised a return of 20 to 25 percent, without any possibility of a loss.
Instead of investing the money as he had promised, he used much of it for his personal needs, like paying his credit card bill, and paying back old investors. In order to cover his tracks, Hoopes provided counterfeit monthly account statements stating positive returns. In total, he swindled over $9 million.
The attorneys of Eccleston Law LLC represent investors and advisers nationwide in securities and employment matters. Our attorneys draw on a combined experience of nearly 65 years in delivering the highest quality legal services.
Related Attorneys: James J. Eccleston
Tags: Michael Justin Hoopes, Broker, Wire Fraud, James Eccleston, Eccleston Law, Ponzi Scheme