Former Broker Charged with $4.7 Million Fraud Over a 15-Year Period
Posted on July 6th, 2018 at 9:44 AM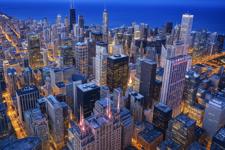 From the Desk of Jim Eccleston at Eccleston Law LLC:
Former broker, DaRayl Davis has been charged in federal court for defrauding clients out of $4.79 million over a 15-year period. Federal prosecutors charged Davis with six counts of money laundering, five counts of wire fraud, four counts of mail fraud, and one count of aggravated identify theft.
According to the criminal complaint, Davis, a self-proclaimed best-selling author and the host of the financial seminar series "Smart Money Academy," defrauded at least 22 investors. More specifically, Davis told his investors that he guaranteed that they would receive annual interest payments of at least 6%, and in some cases as much as 14%, if they withdrew money from retirement accounts and invest in Davis' firm, Affluent Advisory Group. Davis also told his investors that their investments were backed by multinational life insurance companies.
However, instead of investing his clients' funds, Davis used approximately $476,500 to rent a mansion in Los Angeles, $706,000 on credit card payments, $25,000 in theater tickets, $42,500 on a membership to an exclusive club, $42,000 on luxury hotels, $45,000 on car rentals and $102,000 on airline tickets. In addition, according to prosecutors, Davis used new investor money to pay his early investors as purported profits, in a Ponzi-scheme like manner.
Eccleston Law is investigating the fraudulent activities of DaRayl Davis. Those with information should contact our law firm.
The attorneys of Eccleston Law LLC represent investors and advisors nationwide in securities and employment matters. The securities lawyers at Eccleston Law also practice a variety of other areas of practice for financial investors and advisors including Securities Fraud, Compliance Protection, Breach of Fiduciary Duty, FINRA Matters, and much more. Our attorneys draw on a combined experience of nearly 65 years in delivering the highest quality legal services. If you are in need of legal services, contact us to schedule a one-on-one consultation today.
Related Attorneys: James J. Eccleston
Tags: james eccleston, eccleston law, eccleston law llc, eccleston, davis, fraud