Former Broker Allegedly Involved In Outside Business Activities
Posted on April 24th, 2015 at 11:53 AM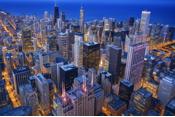 From the Desk of Jim Eccleston at Eccleston Law LLC:
Patric Baccam, a former Centaurus Financial broker, allegedly was involved in outside business activities. According to FINRA, Baccam received at least five customer complaints regarding his sales of promissory notes in securities transactions that were separate from his firm's activities. His outside activities included flipping real estate, health and life insurance, and vending machine leasing.
Baccam solicited clients to invest in promissory notes through The Moret Group LLC, The PR Group and The Precision Research Group LLC. Mr. Baccam was registered with Linsco/Private Ledger Corp in Boston from November 2000 to February 2002 and Centarus Financial in Hemet, California from February 2002 to December 2011. Baccam is not currently licensed to act as a broker or as an investment adviser.
The attorneys of Eccleston Law LLC represent investors and advisers nationwide in securities and employment matters. Our attorneys draw on a combined experience of nearly 65 years in delivering the highest quality legal services.
Related Attorneys: James J. Eccleston
Tags: Patric Baccam, Centaurus Financial broker, James Eccleston, The Moret Group, Eccleston Law LLC