FINRA Finds Lack of Oversight by Some Firms In Sale of Investment Products and Exchanges
Posted on November 1st, 2019 at 1:43 PM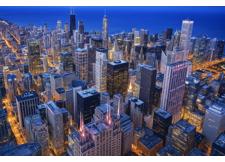 From the Desk of Jim Eccleston at Eccleston Law LLC:
The Financial Industry Regulatory Authority Inc. ("FINRA") said that some brokerages are not doing enough to prevent sales of investment products that are inappropriate for their customers.
According to the 2019 FINRA Examination Findings and Observations Report, some firms lacked adequate supervisory systems for detecting red flags that would indicate unsuitable transactions. "For example, some firms did not identify or question patterns of similar recommendations by representatives or branch offices across many customers with different risk profiles, time horizons, and investment objectives," the report states. "In some instances, several customers of a representative or branch office appeared to have made 'unsolicited' transactions in identical securities, which could raise questions around whether the transactions were actually 'unsolicited,'" according to the report.
Additionally, FINRA found a lack of firm oversight for recommendations that customers exchange certain products, such as mutual funds, variable annuities, and unit investment trusts. Brokers can collect high commissions when a customer surrenders an older product for a newer one. If the exchange was not necessary, the investor could be harmed, given his or her timeline and objectives. "Some firms did not reasonably supervise exchanges because they could not verify the information provided by registered representatives in their rationales to justify a recommended exchange, such as inaccurate descriptions of product fees, costs, and existing product values," according to the report.
Finally, FINRA discovered that firms were not keeping an eye on their branch operations. "In particular, some firms did not adequately understand the activities being conducted through their branch offices, including products and services that were offered only at certain branch locations, which could prevent such firms from effectively supervising and addressing the unique risks of each branch location," the report says.
The attorneys of Eccleston Law LLC represent investors and advisors nationwide in securities and employment matters. The securities lawyers at Eccleston Law also practice a variety of other areas of practice for financial investors and advisors including Securities Fraud, Compliance Protection, Breach of Fiduciary Duty, FINRA Matters, and much more. Our attorneys draw on a combined experience of nearly 65 years in delivering the highest quality legal services. If you are in need of legal services, contact us to schedule a one-on-one consultation today.
Related Attorneys: James J. Eccleston
Tags: james eccleston, eccleston law, eccleston law llc, eccleston, finra, products and exchanges