Chicago Broker Barred for Misappropriating Funds
Posted on December 18th, 2014 at 8:12 AM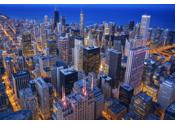 From the Desk of Jim Eccleston at Eccleston Law Offices:
FINRA has barred Illinois broker Eric William Johnson for illegally and unethically arranging for the transfer of funds from client accounts.
Between March, 1999 and September, 2014 Johnson was registered with RedRidge Securities, Inc. in Chicago, Illinois. From December, 2006 to September, 2014, Johnson allegedly made a minimum of 60 wire transfers from the brokerage accounts of at least six customers of RedRidge Securities to his own personal bank accounts. In order to process the wire transfers, he forged the signatures of RedRidge's principal and notary public. Furthermore, he refused to give on-the-record testimony. In total, he allegedly bilked more than $1 million from clients.
The attorneys of Eccleston Law Offices represent investors and advisers nationwide in securities and employment matters. Our attorneys draw on a combined experience of nearly 50 years in delivering the highest quality legal services.
Related Attorneys: James J. Eccleston
Tags: FINRA, Eric William Johnson, Eccleston Law Offices, RedRidge Securities, illegal funds transfer, wire transfers, brokerage accounts, personal bank account fraud