Chicago Area Investment Adviser Receives 12.5 Years in Prison For $5M Investment Scheme
Posted on April 24th, 2018 at 11:03 AM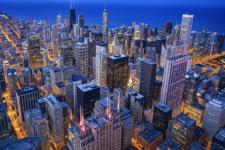 From the Desk of Jim Eccleston at Eccleston Law LLC:
Chicago area investment adviser, Daniel H. Glick, of Orland Park, was sentenced to 12.5 years in prison and ordered to pay $5.2 million in restitution for allegedly stealing client funds, including money from his elderly in-laws.
According to a plea agreement back in January, Mr. Glick, through his three businesses, Financial Management Strategies, Inc., Glick Accounting Services, Inc., and Glick & Associates Ltd. represented to his clients that he would invest their money in safe investments. However, instead of investing his clients' money, Mr. Glick used their funds to purchase luxury items and to pay off his mortgage.
Mr. Glick concealed the fraud by continuing to pay the bills and expenses on behalf of certain clients by using his other clients' funds in a Ponzi-style scheme. Moreover, Mr. Glick also misappropriated at least several million dollars of funds from clients by providing financial institutions, such as Citizens Financial Bank and U.S. Bank National Association, with forged checks and other documents.
Eccleston Law is investigating this Ponzi scheme. Those with information should contact our law firm.
The attorneys of Eccleston Law LLC represent investors and advisors nationwide in securities and employment matters. The securities lawyers at Eccleston Law also practice a variety of other areas of practice for financial investors and advisors including Securities Fraud, Compliance Protection, Breach of Fiduciary Duty, FINRA Matters, and much more. Our attorneys draw on a combined experience of nearly 65 years in delivering the highest quality legal services. If you are in need of legal services, contact us to schedule a one-on-one consultation today.
Related Attorneys: James J. Eccleston
Tags: Eccleston, Eccleston Law, Eccleston Law LLC, James Eccleston