Chicago Area Financial Advisor Sentenced to Five Years in Prison for Investment Fraud Scheme
Posted on March 21st, 2019 at 10:36 AM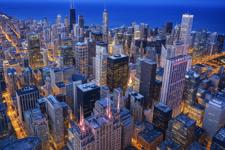 From the Desk of Jim Eccleston at Eccleston Law LLC:
Chicago area financial advisor Richard Booy was sentenced to five years in prison after pleading guilty last year to mail fraud charges.
According to federal prosecutors, Booy admitted to bilking two dozen victims out of $2.3 million and admitted to using some of the money he stole to pay earlier investors, in a Ponzi-scheme like manner.
More specifically, from 2012 to 2016, Booy, who owned Safe Financial Strategies, LLC, solicited mostly elderly, middle-class Chicago area residents to invest in what he described as "high yielding investments." Moreover, Booy met many of his victims through a Northwest Side evangelical church by advertising his services in the church bulletin and by handing out his business card, which contained the slogan, "Not low risk, NO risk."
However, instead of investing the funds as promised, Booy used the money to cover personal expenses, including his credit card debt and purchases at Best Buy, and to pay earlier investors through Ponzi-scheme type payments.
In order to cover his tracks, Booy provided phony receipts to his investors with the company's logo, indicating that the investments were performing as promised.
The attorneys of Eccleston Law LLC represent investors and advisors nationwide in securities and employment matters. The securities lawyers at Eccleston Law also practice a variety of other areas of practice for financial investors and advisors including Securities Fraud, Compliance Protection, Breach of Fiduciary Duty, FINRA Matters, and much more. Our attorneys draw on a combined experience of nearly 65 years in delivering the highest quality legal services. If you are in need of legal services, contact us to schedule a one-on-one consultation today.
Related Attorneys: James J. Eccleston
Tags: james eccleston, eccleston law, eccleston law llc, eccleston, richard booy, safe financial strategies, ponzi scheme, best buy