CFTC Issues Whistleblower Reduced Award of $2.5 Million
Posted on July 1st, 2019 at 9:54 AM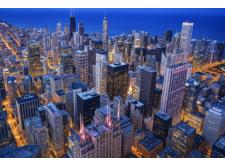 From the Desk of Jim Eccleston at Eccleston Law LLC:
The Commodity Futures Trading Commission ("CFTC") has awarded a whistleblower $2.5 million for reporting a violation of U.S. trading laws.
According to a recent Law360 article, the award could have been larger if the report was made sooner. Officials overseeing enforcement and whistleblowers at the derivatives regulator said the unidentified whistleblower and case should be a lesson for other employees who come across misconduct.
James McDonald, director of the CFTC's Division of Enforcement, said in a statement: "We hope this case illustrates the importance of reporting violations to the CFTC as soon as reasonably possible." "Reporting early lessens the harm violators can inflict on the public and hastens our investigations to bring the culprits to justice."
Christopher Ehrman, director of the CFTC's Whistleblower Office, added that it's understandable that whistleblowers may have reasons to delay reporting suspected Commodity Exchange Act violations. "However, there is a point at which a delay becomes unreasonable," he said.
The Dodd-Frank Wall Street Reform and Consumer Protection Act of 2010 established the CFTC's whistleblower award program. Whistleblowers are eligible to receive between 10% and 30% of the monetary sanctions collected in actions where the amount of sanctions ordered exceeds $1 million. The program protects whistleblower identities and gives whistleblowers legal protections against retaliation.
Eccleston Law LLC assists whistleblowers nationwide to investigate, prepare and file claims on a confidential basis.
The attorneys of Eccleston Law LLC represent investors and advisors nationwide in securities and employment matters. The securities lawyers at Eccleston Law also practice a variety of other areas of practice for financial investors and advisors including Securities Fraud, Compliance Protection, Breach of Fiduciary Duty, FINRA Matters, and much more. Our attorneys draw on a combined experience of nearly 65 years in delivering the highest quality legal services. If you are in need of legal services, contact us to schedule a one-on-one consultation today.
Related Attorneys: James J. Eccleston
Tags: james eccleston, eccleston law, eccleston law llc, eccleston, cftc, whistleblower, u.s. trade laws,